Please READ before continue
All the price are in USD
Payment only via Paypal every price doesn't have Paypal fee You can use a this fee calculator:
Paypal .

All items will be shipped via Registered SAL form México.
Shipping will b 1 or 3 days
For know Shipping cost. please give me your Postal Code and country i will tell you the price at next day or 2.
For any questions, either leave a comment or send message also E-mail dartlein[at] hotmail (doT) com. i will reply you in less of 24hrs. Thank you!
if you bought something with me, feel free to leave a menssage in my
Feedback
///////////////////////////////////////////////////
The figures are in perfect condition
6 USD EACH ONE
They come with their original bag and pamphlet.
SET #1

Tsuna -
Mukuro future -
Mukuro future rare -

SOLD

Mukuro Close eyes -

SOLD

Chrome Close eyes

- SOLD

SET #2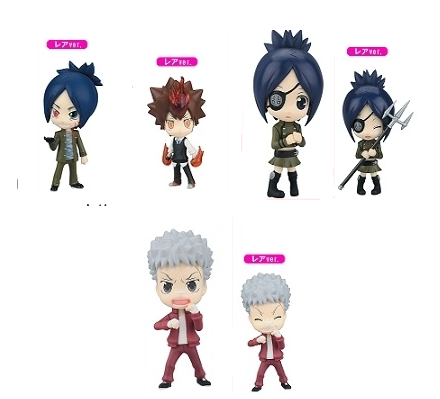 Mukuro - SOLD
Tsuna - SOLD
Chrome -

S

OLD
Chrome rare -

SOLD

Ryohei - SOLD
Ryohei rare .
SET #3 ----

Mukuro
Dino S

OLD

Dino rare

SOLD

Xanxus
Xanxus rare
Squalo SOLD
Squalo rare S

OLD
If you want some figure, plz write
SET number and Character. Thank you~!
IF YOU LIKE TIGER & BUNNY LET ME KNOW!
In each purchase i'll give you as gift a little Barnaby and Kotetsu strap! ( not the best thing but is my way to say thank you )
If you have any question pleas let me know,! thank you
MORE FOR SALE